We got mentioned in an excellent article in the NME which highlighted the problems.


Following the murder of Sophie Lancaster, NME focuses on the dangers associated with subcultures. From mods to MCR, what is the resolution behind this subjective abuse? Gavin Haynes investigates.
Whitby Memorial ceremony details

: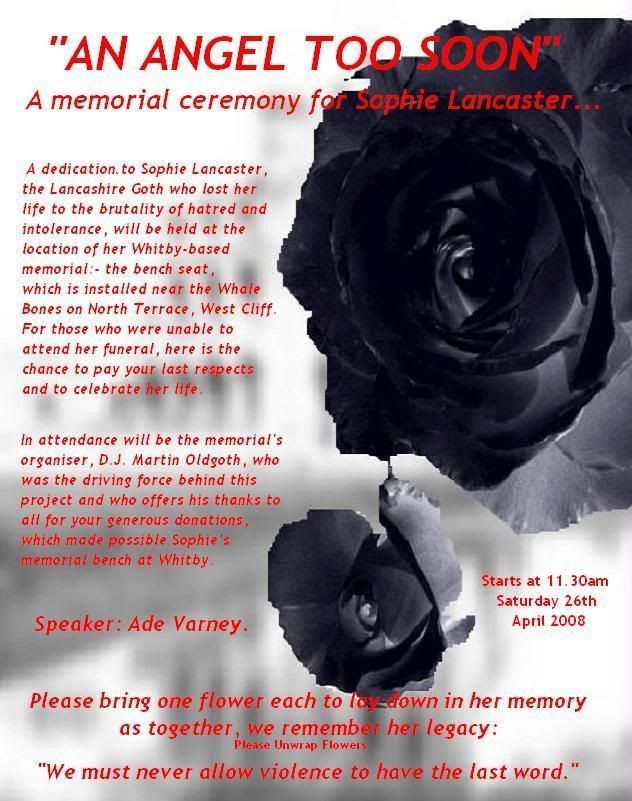 Plus there are plans for a coach from Whitby to the sentencing at the trial. Or if you are near Preston you can go separately .
On Monday 28th April 2008 the Sophie Lancaster hearing reaches it's conclusion. The sentencing takes place of Ryan Herbert and Brendan Harris, found guilty of her murder.

The family have asked for support and the plan is to hold a silent vigil outside the court, no shouting, no placards or banners, just a silent gathering of alternative people, a dignified protest and a show of defiance and strength.

If anyone would like to be a part of this then a coach trip is being arranged, leaving Whitby in the morning, and then returning later that day in time for the evenings festivities. If you would like to be a part of this, please contact martin oldgoth via www.thirteen13.co.uk with your name and email contact so that we can gauge the numbers.

At this point in time we have no idea of cost, but it will be kept to a minimum. All you will need to do to secure your place is to visit the info stall before midnight on the saturday and pay your fare.

Car sharing is also encouraged, and anyone not going to Whitby but able to make it is also welcome
Article in the Sunday Times on public violence mentions Sophie:
Too scared to stop the violence
Times Online, UK -
12 Apr 2008