Emo runs high as fans defend band against Daily Mail
guardian.co.uk, UK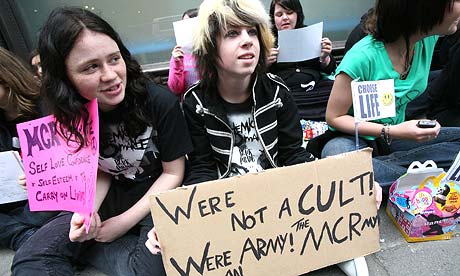 There are few things that would drag a typical teenager out of bed early on a Saturday morning, but defending the honour of a beloved band from tabloid attacks is probably one of them.

Around 100 My Chemical Romance fans had already gathered at Marble Arch, in central London, by 10.30 this morning - not bad given that organisers had given the protest a 12-hour window, of 10am to 10pm, and that there was a last minute change of venue.

The fans were objecting to Daily Mail reports describing My Chemical Romance as a "suicide cult band" and linking the recent suicide of a Peckham schoolgirl, Hannah Bond, 13, to the fact that she had started following the band two weeks before her death.
It is a good article but it looks like the size of the march if not the dedication of those involved was not up to expectations. Impressive to se people coming so far. The very harmless nature of those involved underlines the Mail's stupidity.
The Mail's official response looks bland:
EMO: The Daily Mail Responds - Xfm
The Daily Mail have finally made a statement:
"
The Daily Mail's coverage of the "Emo" movement has been balanced,
restrained and above all, in the public interest.

Genuine concerns were raised at the inquest earlier this month on 13
year old Emo follower Hannah Bond who had been self-harming and then
tragically killed herself.

The Coroner found " the Emo overtones concerning death and associating
it with glamour very disturbing."

Her mother had told the inquest that Hannah had been obsessed with My
Chemical Romance whose hit number one on their last album was called The
Black Parade.

Mrs Bond told the court ;"In Emo it is a very glamorous death to hang
yourself. The band she was into, the music she was into-the whole thing
is based on the black parade which is all about dying. "She called Emo a
fashion and I thought it was normal. I didn't know about the cuts." Her
father said he had seen cuts on her wrists and his daughter had told him
they " were an Emo initiation."

In common with other newspapers we ran an accurate news story recording
the Coroner's remarks and the parents' comments. We also published two
other articles, one of which explained the background to the Hannah
tragedy in calm and un-sensational language.

The other was a first person opinion piece by a well-known writer,
written from the perspective of a mother concerned for her children.

We have also run two prominent page lead letters from an Emo music fan
and from a fan of My Chemical Romance defending their point of view. Our
music critic admires the music of the band and publicised the band's UK
tour last year.

Since this protest was announced a great deal of misinformation has
appeared on the internet, much of which confuses what the Daily Mail has
actually published with the comments of web site readers and "blogs"
over which we have no control and which have stirred up emotions.

We note it has been pointed out by others that all this provides
wonderful publicity for Warners and their impending release of My
Chemical Romance's latest album.

The Daily Mail is a broad church and is always ready to listen to the
views of readers. We do, however, suggest those who want to protest or
comment read everything we have published and act on fact not rumour."


The fact is the Daily Mail published articles which were prejudiced and unbalanced. Remember too the band and their company have done nothing to exploit the situation for publicity this was all down to the fans.
There was also a good earlier article interviewing the organizer:
Exclusive: Emo March Organiser And More Stars Speak Out - Xfm
More here:
Black Parade of teen angst
Irish Independent, Ireland